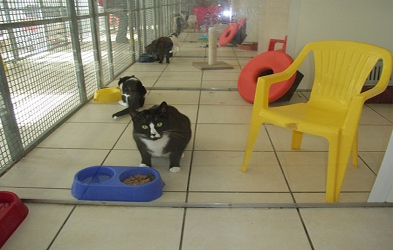 Luxury Cattery Accommodation
Our luxury cattery is second to none. You can rest assured that you cat will receive love, care and attention while on their holiday with us. Each luxury cattery suite is comprised of two levels including a raised heated sleeping area and a spacious floor run.
We clean the cattery suites in the morning, and as necessary throughout the day to ensure that you cat can relax in comfort and fresh accommodation. Your cat will get regular attention by our highly trained staff, who ensure that they remain happy and healthy throughout their stay with us.
Bedding
We provide all of the items your cat needs while they are staying with us, including beds, bowls, and litter trays. You are welcome to bring their favourite blanket or toys.
Meals
We have a variety of foods available to entice even the most discerning cat including Felix, Sheba, ProPlan, kitten, senior, gravy, both meat and fish flavours. We try to remain as near to their normal feeding regime as possible, providing them with a luxury cattery experience .
Alternatively, if you would prefer that they stay on their own food you are welcome to bring that and it will be prepared for them at no extra charge. There is no reduction in the rate if you supply your own food.
Health
Your cat will be insured for any cattery related medical needs up to £2000 whilst with us or within three days of leaving, if a vet certifies this. Pre-existing conditions are not covered. Non cattery related vet fees are the responsibility of the owner and will be billed with the boarding fees unless your vet retains the bill for you. Fees resulting from fleas, worms, or ticks are not covered as these are preventable diseases.
If we suspect your pet is ill, we will take them to their own vet if they are local. Otherwise, they will be seen by our vet Clent Hills.
If you have a routine visit to a vet scheduled, e.g. following an operation, or as part of an ongoing problem, then we are happy to assist if at all possible. A small charge may be made to cover our costs.
Will administer medication at no additional charge, unless veterinary assistance is required. Cats with infectious or contagious conditions will be refused.
Vaccinations
To board at Broadmarsh cattery, your cat must be fully vaccinated against feline enteritis and cat flu. If these vaccinations are out of date, your vet may require that your cat starts the course again which will require two separate vaccinations several weeks apart. We cannot accept them until the 2nd vaccination has been given.
All cats boarding with us must have a current flea and wormer treatment.